How valuable is a customer? Companies can place any value on a customer. However, utilizing a system called multi-touch attribution can help businesses rank and value a customer, all while fostering the customer on a journey from the first touch all the way to (hopefully) a closed deal. For some prospects, the journey may take only a few minutes or hours. For others, the journey could last weeks, months or even longer.
Simply put, multi-touch attribution is a measurement technique that assigns a value to touchpoints that lead to a customer conversion. Brianne Pudenz, a marketing automation expert who works with multi-touch attribution at AKC, uses the process of purchasing a cruise vacation package as an example.
"During your initial research, you visit the Norwegian Cruise Line website," explains Brianne. From there, you see they are advertising a Caribbean Cruise Special. To learn more, you fill out a form to receive more details. You get a follow-up email with more information as well as a call from a Norwegian representative, but you don't know yet if you want to go with Norwegian or another cruise line. Two weeks later you receive an email from Norwegian with a better, limited time offer. It beats other cruise line prices, so you purchase the package offer."
Each one of these connections is a touchpoint — the website visit, the form submission, the emails and the call— all leading to a purchase and all assigned a value through multi-touch attribution.
Understanding Attribution Models
HubSpot, an inbound marketing and sales software that helps companies attract visitors, convert leads, and close customers, explains that there are a variety of multi-touch attribution models. These different attribution models assign worth to different moments, helping businesses analyze the impact of their efforts through various lenses.
"Multi-touch attribution models show which marketing and sales touchpoints your prospects or customers interact with at different points of their lifecycle," explained Brianne. "There are various types of attribution models you can choose from, and which you choose depends on which stage of the buyer's journey you are focused on analyzing."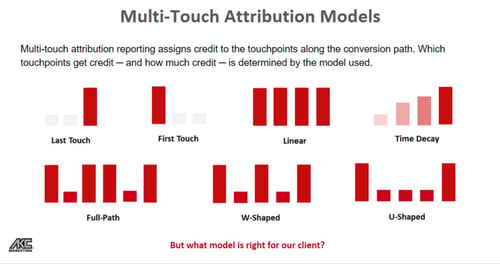 First Touch Attribution: This is helpful for identifying the value of content that drives visitors to your site.
Last Touch Attribution: This model attributes 100% of the deal revenue to the last interaction before the deal was closed.
Linear Attribution: This model helps to answer questions such as, 'What parts of my business are most valuable, as measured by the revenue generated by my customers?'
U-Shaped Attribution: This model emphasizes the top-half of the customer

flywheel

(a model adapted by HubSpot to explain the momentum you gain when you align your entire organization around delivering a remarkable customer experience), assigning 80% of the credit to the first interactions your contact has with your business and becomes a lead in your customer relationship management system (CRM). The remaining credit goes to other interactions.
W-Shaped Attribution: This model is mostly focused on marketing efforts, although the inclusion of deal creation can give further insight into the handoff between marketing and sales at this point in the customer journey.
Full-Path Attribution: This model helps businesses understand the pieces of content that are generating the most revenue. This answers questions such as, 'What is driving contacts to my site?' or 'What is getting visitors to fill out forms and sign deals?'

Time Decay: This model is great for accurately attributing credit toward recent interactions. If relationship-building is a big factor in a business' success, using Time Decay attribution can be a helpful way to conceptualize that.
Selecting the right model for your business will help move prospects through the sales flywheel and better attribute sales. More experienced businesses and multi-touch experts will be able to utilize multiple models for different customers, products and services. Additionally, collecting more data will result in a better understanding of who customers and prospects are and what will meet their needs.
"The attribution reports can be used to make important marketing decisions – from when to get specific assets in front of a prospect to how you allocate your budget to specific touchpoint types," Brianne said. "Continuously looking at trends in the attribution reporting will help you optimize the buyer's journey."
Utilizing HubSpot and multi-touch attribution to improve client marketing
AKC Marketing is currently a Solutions Partner with HubSpot and has earned 10 certifications and awards from the marketing and sales platform, including being named a 2020 HubSpot Champion User.
HubSpot tracks and utilizes data within the platform, such as: email opens, web page visits, sales calls, etc. In-person items, such as sales calls or meetings, must be logged manually. Interactions with marketing materials, such as the email opens and web page visits, are tracked through the use of cookies, tracking pixels (emails) and tracking codes (web pages).
"It is exciting to have a resource that provides visibility into how your prospect or customer interacts with your brand and what they value," said Brianne about what she enjoys most about multi-touch attribution. "Marketers have more data than ever to help make impactful decisions that improve consumer experience and drive business."
Tools are available for businesses to properly implement multi-touch attribution. Segment, a customer data platform from Twilio, provides a rundown of attribution models and guides for individuals and businesses.
Understanding and Implementing Multi-Touch Attribution
Multi-touch attribution models are not new by any means. Their roots can be traced back to the 1950s. As more data becomes available to companies, and data becomes more robust, new methods are needed to track, decipher and utilize that data. When looking to the future of multi-touch attribution, however, Brianne has a few thoughts:
"In the upcoming years, we'll see how data privacy and new regulations start to impact the level of activity we're able to track in attribution reporting. There will be hurdles to overcome, but I think in the end it will only improve user experience, build trust and brand loyalty, and improve your overall relationship with consumers."
Ideally, multi-touch attribution removes the friction for both the customer and sales team. Prospects are served appropriate and timely information in the format and frequency they prefer. Multi-touch attribution is designed to help find where the prospect is in the flywheel, what level they came from and provide the next piece of information that makes sense. The information will be more in-depth as the prospect creeps closer to the sale.
Because the customer journey is becoming more personal and complex, setting up multi-touch attribution can be difficult. According to Google, 90% of multiple device owners switch between screens to complete tasks. Obtaining and tracking all the different touchpoints of consumers is the main hurdle in implementing multi-touch attribution. To start developing a multi-touch attribution approach to marketing, collect data on how prospects interact with your marketing and sales assets. Using UTMs are a great way to track who visits a website, how they got to the site and whether they converted.
After gathering data, the next two steps are combining that data and visualizing it by putting it in charts and graphs. Visualization allows data experts and marketers to better understand which direction to take the journey. Then you can begin creating the customer journey.
Making the journey easy for customers and even easier for businesses is what we do best at AKC Marketing. Sales, marketing, data and marketing automation specialists help to collect data and work with clients to create complete and logical journeys for prospects. Looking for more information or how we can optimize and personalize your business's marketing? Reach out, we would be happy to help.
Consumers are interacting with more channels than ever. Research shows that 88% of consumers

pre-research their buys online before making a purchase either online or in-store.

On average,

25% of media tactics don't have any impact. They don't generate a lead, a site visit, a sale, or any other KPI. Knowing which tactics aren't producing results unlocks smarter spending.
Without multi-touch attribution, you could under-value channels by

215% or more.
Without daily multi-touch attribution, it is difficult to react quickly to performance fluctuations that may vary by as much as 590%.

You could also be wasting 38% of your monthly spend on non-performing tactics.